About Caucuses

What
Presidential candidates are selected through caucuses and primaries. At a caucus, you will meet with others to discuss candidates and select delegates to send to the national party convention, where the delegates will nominate your party's presidential candidate.
Primaries are similar to a general election: state governments send out ballots to voters.

Who
Some caucuses are closed and others are open. To participate in a closed caucus, state parties require you to be a registered party member. Please ensure that you are registered before attending a closed caucus. For closed and open caucuses alike you must be a registered voter!

When & Where
Caucuses are typically held in public spaces such as community centers or local schools. Please arrive on time, and expect to be there 2-4 hours. Right now this website only has information for Washington voters living in the zip code 98105. In the future, we plan to make specific dates, times, and addresses for your local precinct's caucus (within the US) accessible through home page map.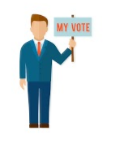 Why
The primary level of elections is a key place for your voice to make the greatest impact on who is nominated for president. Attending caucuses is crucial to ensure that our national politics reflect the views of all voters. Caucuses have many more barriers to participate than ballot-based primary elections, so it is even more important that those who tend to be excluded participate and make their voices heard.